Company's Annual Celebration
Celebrating a Year of Accomplishments and Development!
At Tatvik Engineering Pvt. Ltd. , we accept within the control of celebration. Our yearly celebration is more than fair an occasion; it's a confirmation to the difficult work and commitment of our unimaginable group and the bolster of our esteemed clients and accomplices. We celebrated to our fruitful 9 a long time of hardwork & diligent commitment which will proceed in coming a long time .
What to Anticipate:
Reflected on Victory: We took a minute to see back at the points of reference, ventures, and achievements that have characterized the past year. It was a time to recognize the commitment and advancement that have impelled us forward.
Motivating Keynote Speakers: We welcomed Mr.Subhashish Puja Panda C.A of our company,shared experiences and motivate us with their vision for the longer term.
Worker Acknowledgment: Our group is our most important resource. We took this opportunity to recognize and celebrate the exceptional commitments of our workers who have gone over and beyond.
Networking Openings: Interfaced with colleagues, clients, and accomplices in a loose and agreeable environment. Share encounters, thoughts, and fashion unused connections that will fortify our collaborative endeavors.
Amusement and Fun: It's not all trade! Appreciated live music, amusement, and delightful food. It was a chance to loosen up and have fun with colleagues and companions.
A Year of Gratitude:Our yearly celebration may be a time for appreciation. We amplify our sincere much appreciated to our clients, accomplices, and workers who have been indispensably to our victory. Together, we see forward to another year of development, development, and shared accomplishments.Thank you for being a portion of the TATVIK family.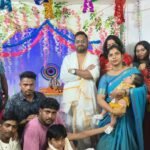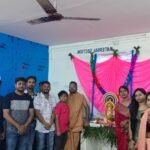 At Tatvik, we cherish the rich tapestry of our culture and traditions. At this sacred occasion we welcomed Lord Ganesha, the remover of obstacles and the harbinger of new beginnings.
Our Ganesh Puja celebration is a reflection of our deep-rooted values. We decorated our workspace with vibrant colors and intricate designs, creating an atmosphere of joy and devotion. The celebration culminated in a sumptuous feast, fostered camaraderie and unity among our team members.
It inspired us to overcome challenges and embrace fresh opportunities with renewed vigor.
Biswakarma Puja Celebration
At TATVIK , we understand the importance of tradition and culture. That's why, each year, we come together to celebrate Biswakarma Puja with great enthusiasm and reverence. At this auspicious occasion, we payed homage to Lord Biswakarma, the divine architect and craftsman, who symbolizes creativity and craftsmanship.
During this vibrant celebration, our entire team gathered to offer prayers, seek blessings for success in our endeavors. We expressed our gratitude for the skills and craftsmanship that shape our work.
Biswakarma Puja reminds us of the value of precision and dedication, qualities that resonate deeply with our commitment to excellence in every project we undertake. It's a tradition that always inspires us to continue building a brighter future, one project at a time, guided by the divine spirit of innovation and craftsmanship.